Field bindweed (Convolvulus arvensis)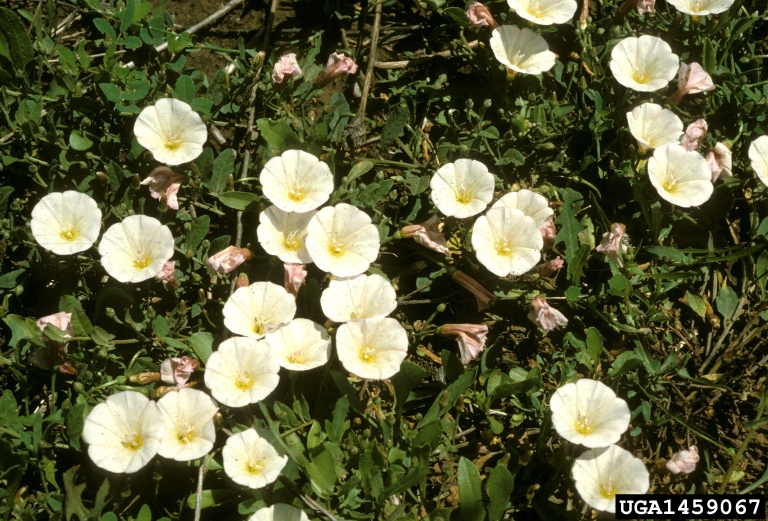 Keys to ID:
Flowers are funnel-shaped, white to pink, and have two small bracts one-inch below the flower base.
Leaves are shaped like arrowheads
Identification:
Lifecycle: Perennial
Growth form: Forb
Flower: Funnel-shaped, white to pink, and have two small bracts one-inch below the flower base. Flowers last for only one day, and are produced late in June until conditions are no longer favorable.
Seeds/Fruit: Seeds are extremely persistent, and can lie dormant in the soil for many years. The seed coat must be exposed to adequate water, moist air, or fluctuating soil temperatures in the surface soil layers in order for a seed to germinate. New introductions of field bindweed are most likely by seed. Seeds fall near the parent plant, but can be transported by water or birds. Seeds pass through the stomachs of migrating birds with little or no damage (CSU 2000). The seeds are poisonous.
Leaves: Alternate, arrowhead-shaped. Pale green to blue-green.
Stems: Perennial, twining vine
Roots: Rhizome. The extensive underground root/stem system allows some to persist through the winter, and the lateral roots can persist independently if severed from the primary root. Young plants extend a taproot deep into the soil, and then form lateral roots. Lateral root growth was found to be 15 feet (4.6 m) per year, but depends on the soil permeability and water table depth (TNC 2006).
Propagation: Roots and seed.
Control:
Mech: Pulling or cutting is only effective when plants are cut below the surface, in the early seedling stage. Mowing and tilling are ineffective and can spread seed and roots. Control is most effective when plant is consistently removed, causing underground stores of energy to be tapped. Three to five years may be required to effectively reduce the seed source, deplete food reserves in the root system, and prevent seedling re-growth.
Bio: the bindweed gall mite, Aceria mahlerbae, and bindweed moth, Tyta luctuosa are effective.
Chem: Most effective just after full bloom.
Cautions:
Synonyms: